Millennium Cast and Crew Video Interviews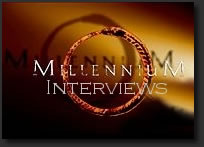 'Digitally cleaned' and presented in Windows Media 8 format for viewing on or off line, these interviews were recorded during 1996 whilst on location filming Millennium. They provide an invaluable look at how the then new Millennium Actors perceived their roles and their expectations for the show.
Look out too for events in the background behind the actors and see if you can spot any other cast or crew! These video interviews were also included on the UK VHS Video release of Millennium.