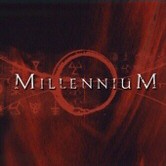 Fans will recall the speculation and rumours regarding a Millennium Season One Promo Soundtrack CD which appeared briefly on the fan scene. Best of Millennium is a completely different and fully legal compilation containing Mark Snow's wonderful themes from various episodes and seasons of the show.
It is my personal belief that the tracks included on the Best Of Compilation are not as good a choices as those from the Season One Promo CD, but it does include some of the same tracks such as the stunning, previously unavailable extended Millennium Main Title which runs at 3.33 minutes, plus the music from the wonderful season three closer Goodbye To All That makes an appearance.
When previously asked to name his favorite piece from Millennium that he loves most, Mark Snow listed Closure and Luminary in particular but sadly neither of these tracks make an appearance here. Some of the tracks are split up into various smaller themes from a particular episode, used where scenes were a particular length.
The Best Of Millennium
(Soundtrack from the TV Show)
Mark Snow
Release date December 19th 2003
(P) 2003 Fox Music
Full Track Listing:
Pilot Episode: Main Title (Long)
Pilot Episode: Bumper #1/M2
Pilot Episode: M10
Pilot Episode: M13
Marantha: 1M1
Marantha: 1M5
Marantha: 3M3/3M4
Marantha: 4M1
Jose Chung's Doomsday Defense:M15
Jose Chung's Doomsday Defense:M11
Jose Chung's Doomsday Defense:M22
Midnight of the Century: Bumper #1/1M2
Midnight of the Century: Bumper 1M4/3M1
Midnight of the Century: Bumper 4M2
The Time Is Now: 1M1
The Time Is Now: 2M2
The Time Is Now: 4M1
Omerta: 1M2
Omerta: 1M3/2M2/2M4
Omerta: 4M4
Goodbye to All That: 4M2a
Goodbye to All That: End Titles
Contains music from the following 7 Millennium episodes:
Screen shots from the Best Of Millennium soundtrack by Mark Snow:
Simply click on the smaller images below to view them full size, and use the previous and next buttons to slideshow between them.
The iTunes software is available for free download at Apple.com. You don't need a Mac Computer or an iPod MP3 Player to buy or download these tracks. You can download them via iTunes and play them on your PC, iPod or Apple Mac and you can also burn them to a CD from iTunes if you wish.