9th September 2002 By Graham P. Smith
Many thanks to Millennium Collections for pointing me to Ann Larimer's Millennium Toys.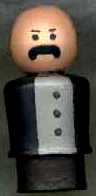 Modelled in the style of Fisher Price Toy People, you will find Frank Black, Jordan Black, Catherine Black, Peter Watts, Lara Means and Emma Hollis! My personal favourite has to be Peter Watts...
That really cracks me up!
Brilliant, well done Ann!
Credit: Millennium Collections / Millennium Toys