2nd November 2002 By Graham P. Smith
The Millennium Screen Saver section has just been updated with a new screen saver.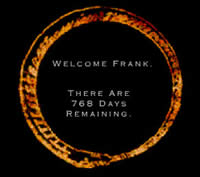 Millennium Ourobouros was created and designed by myself and is the first Millennium Screen Saver produced by this site. Designed using Flash, the screen saver features a rotating Millennium Ourobouros and the classic Millennium Computer Network Log-In Screen. The screensaver is easy to install and uninstall and has been tested for compatibility with Win ME and XP. Please let me know what you think. Thanks to John T for the info on Flash-Wiz.