25th November 2002 By Graham P. Smith
Yesterday I was honoured to receive an e-mail from Edouard de Teyssiere of France, advising me of the impending release of his new Millennium-based reference book, Millennium: Un Livre Référence. Edouard advises that although the book will be released in the French language, it could be possible that an English translation could be produced should the publishers be content with its success.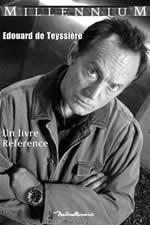 Eduardo advises, "This book is dedicated to Erin Maher & Kay Reindl, Glen Morgan & James Wong and contains episode guides as well as analysis about the influence of the writers, actors, staff and character's biographies, the symbolic in the show based upon Jung and Joseph Campbell works, a column about the merchandising...". Eduardo adds that an interview with Erin Maher will be published in the French magazine SF Mag in December 2002.
Erin Maher and Kay Reindl are known for the both some of the best and least popular episodes of Millennium. They wrote Season Two's spooky A Single Blade Of Grass, the outstanding Christmas episode Midnight of the Century,Anamnesis and Season Three's Matryoshka.
Glen Morgan and James Wong's work of course needs no introduction but you can visit the excellent Morgan And Wong Online and read more about their Millennium success.
It's always excellent and welcome news to read about Millennium continuing to remain popular and Millennium Desktop UK would like to take the opportunity of wishing Edouard the very best of success with his book. Millennium: Un Livre Référence by Author Edouard de Teyssière. Publisher: Naturellement. Release date 16th December 2002.