3rd December 2003 By Graham P. Smith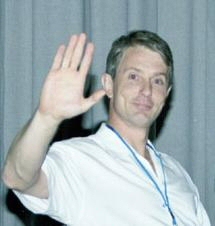 Millennium fans who follow what is seemingly becoming a mythological story-arc telling of the story of the Official Fox Millennium DVD Release, Millennium: The Complete First Season will no doubt recall Fox Executive Peter Staddon's On-Line Chat Interview last year in which he spoke of his support for Millennium making it to DVD.
A few months ago, together with The Millennial Abyss we were jointly notified that he had been served with information supporting the release and demonstrating the support for a potential DVD release of our favourite show. Well, a year has gone by and now Peter Staddon will be taking part once more in an online interview hosted by Home Theatre Forum Monday December 8th, 9pm EST, 8pm CST, 7pm MST, 6pm PST USA Time.
Let us hope that once again he is questioned about his support of the Millennium on DVD release and that he can provide more factual information to confirm Fox are hoping for a 2004 release, after the X-Files Series 9 DVD release is completed and all music rights for Millennium have been secured.
Interested Millennium fans should head to Home Theatre Forum to find out how to view or participate.
Thank you to Gordy from TV Shows On DVD for the info.