20th February 2003 By Graham P. Smith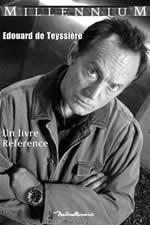 Last week, Edouard de Teyssière, France's foremost Millennium activist contacted me to advise that his new Millennium Reference Book, Millennium: Un Livre Référence. is finally available after some publishing delays. Even if you can't read/write French, this book is sure to become a collectors item amongst Millennium fans.
Published by Naturellement, the book is now available from:
We would once again like to wish Edouard the best of luck with his achievement.