20th March 2003 By Graham P. Smith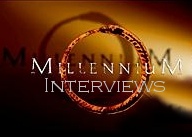 With effect from today, I am pleased to announce the provision of my entire collection of Millennium Episode Trailers and Season Previews. Previously these rare Millennium files were only available one at a time on a weekly basis but as a result of the recent move to US based Web Servers, Wired-Hub and 1 Gigabyte of web space I can present them all for download. Also now available is the full collection of Millennium Cast Interview Excepts which include a 5 minute plus interview with Chris Carter talking about how he battled Lance Henriksen's agents to get him on the show! It's also exciting to see what went on in the background on the sets and location shoots of Millennium. Visit the Millennium Downloads section to watch or download these video files...
I would like to thank my colleagues Geoff Butters and Steve Telford who have hi-speed Broadband ADSL for allowing me the opportunity to upload these files using their connections. Without their generosity I would have had to wait until the end of May to share these files with the Millennium Community. Thanks Guys!