3rd May 2003 By Graham P. Smith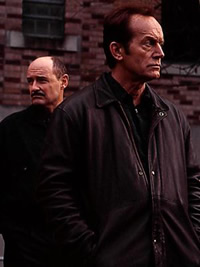 On May 5th, 2000, seven inner planets align for the first time since the Great Flood. Uranus at the meridian of its epicentre. Earth the focus of the biggest gravitational tug-of-war in 6,000 years. Catastrophic Earth changes on alignment day, preceded by abnormal weather now as stresses build. Example: hurricanes -- Edouard; Andrew; Andhra Pradesh, Bay of Bengal. Example: The Sahara Desert advancing 70.7 meters per year. Example: Lima earthquake, 7.3; Loma Prieta, 7.1; Irian Jaya, 8.0. Example: ...
If that doesn"t mean much to you it may be because you haven"t savoured the Season One episode of Millennium Force Majeure or you haven"t spotted the connection with Lance Henriksen, Millennium's Frank Black. Lance celebrates his Birthday on May 5th. In fact he was born on May 5th 1940 New York, USA.