16th May 2003 By Graham P. Smith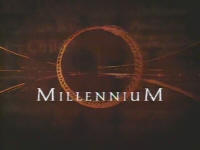 Two new Millennium Downloads have been uploaded to MDUK today. First of all a new Millennium Video Clip section has been added to Millennium Downloads, featuring a very special download to start off the new section, a 640x480 version of the opening Millennium Season Two Credits. This is our first download to make use of the recently released Windows Media 9 Codec, hence you can enjoy excellent sound and a large resolution to show off the beautiful and thought provoking opening sequence. Perhaps you will notice images you had not seen before!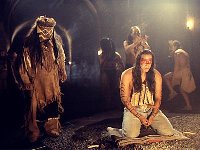 Secondly, due to a request on our TIWWA Millennium Message Board from Millennium fan Raven Wolf, you can download the latest addition to our Millennium Sound Clips. A digital recording of Floyd "Red Crow" Westerman's monologue from the opening teaser of A Single Blade Of Grass. Whilst this episode may not be as popular with many Millennium fans, it makes an ideal sound clip to enjoy.
Updates have been a bit slow recently whilst work continues in the background on the site redesign and the much anticipated (due for completion next week) review of Millennium on DVD-R. The Time Is Near.