28th October 2003 By Graham P. Smith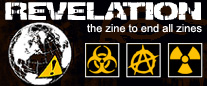 Brian Dixon's new zine Revelation, which contains apocalyptic subject matter and hence may be of interest to Millennium fans, is now available. Brian, who has been running the highly popular Millennial Abyss, has created an online presence for his new interest at The Millennial Abyss .
An insight into End Times...
"Revelation" is an independently published, non-profit literary zine preoccupied with the apocalypse.
Revelation offers original writing and artwork of various genres and techniques from various authors in a traditional zine format. The one constant holding together each eclectic issue is the looming threat of annihilation and the end times present in each individual work.
"Revelation" is devoted to publishing any creative work -- short stories, short plays, poems, essays, reviews, commentaries, artwork, cartoons -- that has been inspired by or is somehow connected to any conception of the end of the world. That doomsday connection may be tenuous, implied, or overwhelming. Each piece presented in the zine represents any one of countless genres -- drama, comedy, mystery, romance, horror, science fiction, slice of life, creative nonfiction -- but there is certain to be a relevant and creative apocalyptic element apparent in the piece.
Revelation's premiere issue, presenting unique and original apocalyptic literature and imagery, debuted in October of 2003. A second issue is anticipated in December. Orders, submission guidelines, and any information concerning the publication may be obtained at this official website.
MDUK would like to wish Brian continued success with his latest project.