1st December 2003 By Graham P. Smith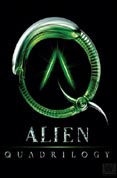 As many fans of Millennium's Lance Henriksen will appreciate, Lance has had a varied and interesting career in Film and TV. He will long be remembered for portraying the role of "Bishop" in "Aliens".
As the latest Alien DVD Box Set, "Alien Quadrilogy" arrives in time for Christmas, online stores such as Play.com have already added the product to their catalogues. It was with interest then that apart from spotting that they had miss spelt Lance Henriksen's name, I also noticed the unique graphic design box illustration for the Region 1 USA version of Alien Quadrilogy DVD Box Set, being a Alien/Ouroboros hybrid, the Ouroboros being instantly recognisable to Millennium fans as the mythological symbol of The Millennium Group. Why and how this image came to be is unknown, but it cannot be ignored that Disk 3 of the set contains the movie "Aliens" complete with a commentary by Lance Henriksen amongst other actors and production crew. Perhaps the graphic designer is a fan of Millennium and Lance Henriksen?
The UK region 2 version contains a different illustration and possibly no commentary although it is still 9 discs.