23rd January 2004 By Graham P. Smith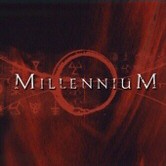 Hot on the heels of the best news for years for Millennium fans, that the DVD is to be released during 2004 (Fox don't let us down!), Millennium fans will be overjoyed to find out that a Millennium Soundtrack Music CD named The Best Of Millennium (Soundtrack from the TV Show) Mark Snow has been published for download/purchase on the the iTunes website.
New Member to This Is Who We Are "Scaldcrow" made the exciting discovery on January 22nd 2004. He advises, " I'm a fan of the show, but don't usually frequent message boards. I am posting now because this morning I was checking out the iTunes music store and found Mark Snow's "The Best of MillenniuM" soundtrack to download. COOL!!!"
Indeed, fans of the series have been waiting years for an official release of the Millennium Soundtrack by Mark Snow and this is fantastic news.
Fans will recall last year the speculation and rumours regarding a Millennium Season One Promo Soundtrack CD which appeared briefly on the fan scene. I can confirm that this new CD is completely different and is a Best of Millennium compilation containing Mark Snow's wonderful themes from various episodes of the show.
It is my personal belief that the tracks included on the Best Of Compilation are not as good a choices as those from the Season One Promo CD but it does include some of the same tracks such as the stunning previously unavailable 3.33 minute Millennium Main Title plus the wonderful Season Three closer Goodbye To All That makes an appearance. Mark Snow has commented when asked beforehand to name his favourite piece that he loves Closure in particular. Sadly Closure does not make an appearance here.
Some of the tracks are split up into various smaller themes from a particular episode.
The Best Of Millennium (Soundtrack from the TV Show)
Mark Snow
Release date December 19th 2003
(p) 2003 Fox Music
Full Track Listing:
Pilot Episode: Main Title (Long)
Pilot Episode: Bumper #1/M2
Pilot Episode: M10
Pilot Episode: M13
Marantha: 1M1
Marantha: 1M5
Marantha: 3M3/3M4
Marantha: 4M1
Jose Chung's Doomsday Defense:M15
Jose Chung's Doomsday Defense:M11
Jose Chung's Doomsday Defense:M22
Midnight of the Century: Bumper #1/1M2
Midnight of the Century: Bumper 1M4/3M1
Midnight of the Century: Bumper 4M2
The Time Is Now: 1M1
The Time Is Now: 2M2
The Time Is Now: 4M1
Omerta: 1M2
Omerta: 1M3/2M2/2M4
Omerta: 4M4
Goodbye to All That: 4M2a
Goodbye to All That: End Titles
Visit the iTunes Apple Store website now to legally download the tracks for just 99 cents each! What are these tracks and how do I get them? Well put simply iTunes is a piece of software that allows for downloading music at 99c per track. It's quite a large download if you don't have access to broadband at 20MB. Once you download the software and install, you can choose to register and log in either with an AOL or Apple username and password.
You can browse or search for the music although I point out that searching for Best Of Millennium Mark Snow failed to produce a result when I tried. I had to BROWSE through the categories from Sound Track to Mark Snow and there it was.
My second disappointment was that iTunes is currently unavailable for download in the UK. I was able to download the software but only preview a 30 second example of each track.
Currently to my knowledge this Mark Snow MillenniuM music is only available for download via iTunes and is not yet listed to buy as a retail CD.
Scaldcrow added, "Since no one knew much about this, and it's not online anywhere, I went ahead and downloaded it. I hadn't bought anything from iTunes before, so I was a little unsure about sound quality, but it is superb. This definitely SOUNDS like an official release, in terms of quality. I haven't heard the promo CD that has been mentioned, so I can't speak of similarities. The music is awesome (of course)."
The iTunes software is available for free download at Apple.com. You don't need a Mac Computer or an iPod MP3 Player to buy or download these tracks.
Discussion on the discovery can be located at This Is Who We Are.
Additional screen shots from the Best Of MillenniuM Soundtrack:


Many thanks to Scaldcrow for discovering and sharing this wonderful opportunity to own some of Mark Snow's Millennium music legally and in such wonderful quality.