31st January 2004 By Graham P. Smith
Twentieth Century Fox have once more confirmed Millennium to be released on DVD, this time in the form of their Fox TV January 2004 Newsletter entitled "The Best TV on DVD". Who indeed could argue with that?
Primarily advertising the release of Season One of the original Lost In Space TV Series, the newsletter states:
"2003 was full of fantastic titles... but you ain"t seen nothing yet! Here is an exclusive peek of what's in store for 2004 - more of your favourites along with classic comedy, superb new sci-fi and exciting dramas."
The news letter then goes on to state the following as shown in this image: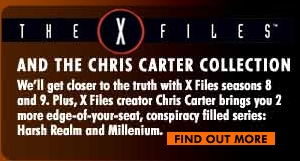 Sadly, when you click on the link to find out more, you get taken to the FOX TV DVD UK site which fails to mention or add any further information regarding Millennium, Harsh Realm or anything about a Chris Carter collection.