18th March 2004 By Graham P. Smith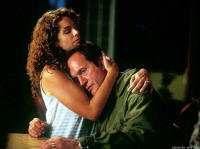 Meanwhile, there is still no change to the confirmed UK Millennium DVD Season One release date of 12th July 2004 as published by Fox UK which is excellent news for UK fans but US and international fans still have no confirmed date.
Fox US were recently asked why there was no available official release date whilst Fox UK had published (an earlier than expected) one, all they would comment was that the UK site belonged to a different international division of FOX and that they conducted themselves in a completely separate methodology.
Eagled-eyed visitors to this site will have noticed that there is now a countdown in typical Millennium Group manner on the introductory splash page to this site which is counting down to the UK release date for Millennium: The Complete First Season!