14th April 2004 By Graham P. Smith
TIWWA.info Member Voidprime, aka David Blackwell has advised "This Is Who We Are" Members of an advertisement for Millennium Season One DVD Box Set. Discovered on on the excellent DVD "rumour site" DavisDVD.com, the image is shown below: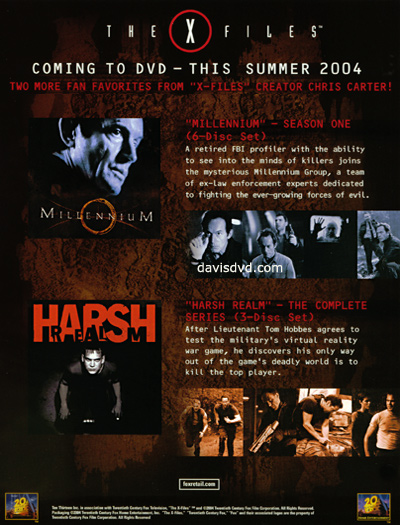 DavisDVD.com goes on to report that MillenniuM will be released onto DVD later this summer. Although we already know that MillenniuM Season One is being released in the UK on 12th July 2004, there is still no conformation of a release date for the many US based fans, not to mention worldwide release schedules.
One Millennium fan on the excellent Home Theatre Forum has already speculated that this is a print ad to be included in the Season 9 release of The X-Files.
Credits:
D Blackwell | DavisDVD.com | Home Theatre Forum