1st December 2001 By Graham P. Smith
WIN T-SHIRTS AND HATS DONATED BY "MILLENNIUM" STAR LANCE HENRIKSEN
Head on over to UK Sci-Fi Channel's Competition page for a chance to win Original Lance Henriksen T-Shirts and Caps donated by the man himself!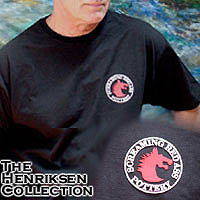 "Owner of one of the hottest kilns in the world, he delights in creating stoneware and porcelain and has a real passion for his pottery which he sells via his own website www.bylancehenriksen.com. He makes each and every piece himself and all stamped with one or more of his "tradware" marks including "Screaming Red Ass Pottery". "
Visit the competition here. This link has now been fixed! 29.12.01.
The closing date for entries is 6th January 2002.