23rd April 2004 By Graham P. Smith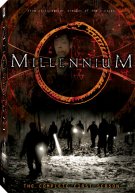 Many thanks to Peter Woolman for contacting us. He advises R1DVD.Com are now offering the US version (Region 1 NTSC) of Millennium: The Complete First Season for pre-order at £34.99 including delivery.
It is somewhat ironic that there are as yet no US based sites offering the Region 1 DVD Box Set for sale but that is expected to change any day soon.
NB. This site no longer exists (2007). Link now removed.