23rd April 2004 By Graham P. Smith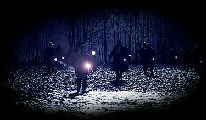 Basically a reminder that Season one of MillenniuM commences nightly screenings in the UK on UK Sci-Fi Channel this weekend:
Saturday 24th April 4.00am - Millennium - Pilot/2000
First ever episode of this acclaimed conspiracy series from the creator of The X-Files. Frank (Lance Henriksen) hunts for a murderer who fulfils an apocalyptic prophesy. Series 1.
NOTE: Due to UK Sci-Fi's constant weird way in the design of their TV Schedule, viewers should note the show is on at 4am Sunday morning, not Saturday morning.