12th July 2004 By Graham P. Smith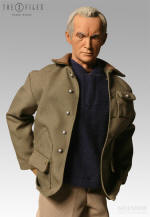 Sideshow Collectibles have released a long overdue 12inch tall action figure of Millennium's Frank Black. To be more accurate the figure has come about from the horrendous X-Files episode "Millennium" but that doesn"t matter, this is your chance to own a great collectible, one that will be much sought after on sites such as EBay in years to come. The figure is superbly made and will be one of only 750 to be released.
In the X-Files episode "Millennium," Frank Black helps Mulder and Scully stop a madman from releasing his four "Zombies" (aka his "Four Horsemen of the Apocalypse) on New Years Eve 1999. Yes, we"re still trying to forget that abomination which was meant as closure to the series Millennium. In the hearts and minds of Millennium fans everywhere, the episode doesn"t exist and Millennium got its closure with Season Three's episode, "Goodbye To All That". However this is an excellent opportunity for fans of the Millennium series.
Frank Black has over 30 points of articulation and includes a Webley revolver, old school .45 & holster, pager, cell phone, flashlight, Millennium case file w/photos, and an X-Files 12" figure display base. Reserve one now for $45, also available to UK and Europe. Estimated to ship first quarter 2005.
Many thanks to Rich/Agent1013 for the news.