12th July 2004 By Graham P. Smith
To further enhance the celebration of today's release of Millennium: The Complete First Season, UK fan Mark Turnock has kindly advised us that a complete three season bumper box set of Millennium is forthcoming.
Play.com have already listed Season's One and Two but we can now reveal that a pre-order facility now exists for Season Three priced at a very reasonable £29.99 with a release date of 25th October 2004, as previously advised by Fox (see news 7/7/04).
Further to this Play.com are the first known website to announce a complete three season pack (again Region 2) with the same release date of 25th October 2004. Play.com advise that the RRP price is £89.99 but they are discounting it at £71.99 including delivery, describing it as "A bumper box set containing all the eerie adventures of Frank Black (Lance Henriksen) from the creator of "X-Files"!". Thank you Mark for the fantastic information!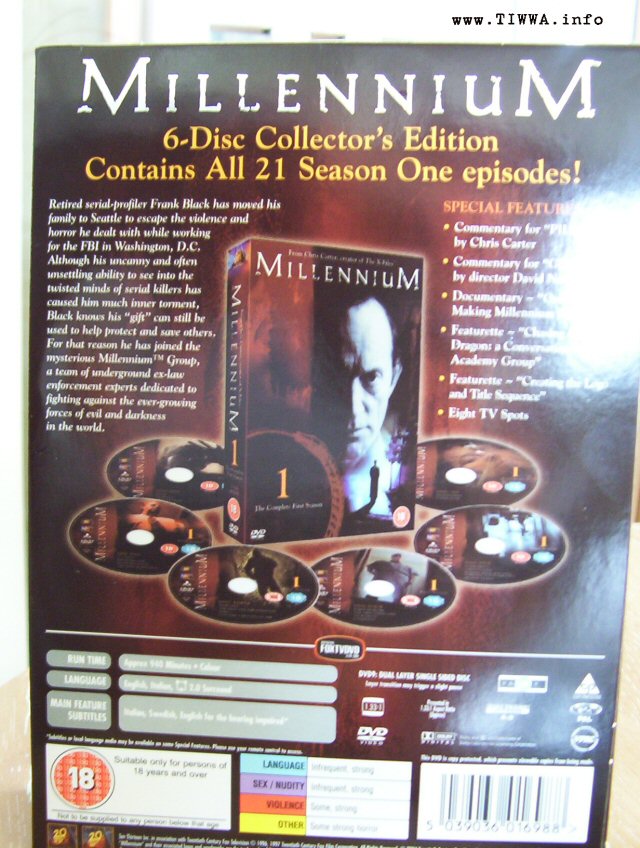 Meanwhile in the course of the forthcoming season One review, I have discovered an unfortunate error on the rear of the outside case. According to the packaging, it states "6-Disc Collector's Edition - Contains All 21 Season One episodes!" - Unfortunately as any die hard fan will tell you, there are in fact 22 episodes in Season One! The Millennium Bug strikes again!
Just to clarify and reassure all purchasers, Millennium: The Complete First Season does contain all 22 episodes.