12th July 2004 By Graham P. Smith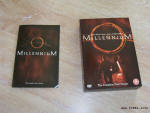 Today the long and eagerly awaited Millennium: The Complete First Season is released upon the UK! It has certainly been a long and drawn out wait, if not agonising for many die-hard fans of Chris Carter's superior television series. Many fans will be taking some annual leave from work to watch all twenty one episodes back to back in a Millennium marathon but whichever way you choose to watch the episodes and excellent special feature documentaries, you will certainly find it hard not to watch them all in one go!
This weekend I watched all the special feature documentaries and I was very impressed with the way that the show left its mark on the Cast & Crew, their fondness comes across at all times even when they reminisce of those long cold winter nights in Vancouver whilst filming each episode in just eight days.
Purchasers of the set will also enjoy Chris Carter's commentary on the first episode Pilot, in which he displays much pride and admiration of his fellow crew and also cast members. There are so many gems and points of trivia contained in the special features to satisfy any true Millennium fan, for example did you know that there were two Yellow Houses? The first shot in the Pilot Episode could not be reused when the series was picked up due to local opposition to the series being filmed in their community so Carter had to find an alternative, returning to a house used in the second episode of The X-Files. Comparative shots are featured side by side and Megan Gallagher also adds more information to this event. So take your time and be sure to savour each moment, a full review is under development but if you haven't ordered it yet, pop out to your local video outlet now or visit Amazon UK to order now. It's the best £29.99 you'll ever spend – until Season Two..!