7th August 2004 By Graham P. Smith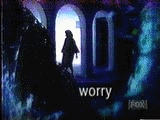 With the current success of Millennium on DVD, a new wave of official sites are being discovered both in the UK and in the US, "The Time Is Now" to update your bookmarks.
One site previously reported, the remarkably strange sounding Millennium Secret Site which was discovered and reported by Millennium fan Agent 1013/Rich has had a major update. It now features new desktop wallpapers and a new Millennium screen saver, accompanied by Mark Snow's Millennium theme music. Visit the site now and grab the excellent wallpapers. This site differs from the DVD promoting www.foxhome.com/millennium/ website by containing up to date information on the cast and crew where as the original site seemed to use pre-dated text with references to the show still being filmed etc. These odd references are under discussion at the popular This Is Who We Are - Millennium Message Board.
Other Millennium sites/pages which have recently appeared are listed below. Many thanks to Agent 1013/Rich for the updated news and for keeping Millennium fans up to date with developments.
https://www.foxhome.com/millennium/
Also, if you aren"t a regular visitor to This Is Who We Are, you"ll be pleased to know that Millennium: The Complete Second Season which is due for the release in the UK on 27th September will be in 1.85:1 (16x9) wide screen!