25th September 2004 By Graham P. Smith
This morning I received my pre-ordered copy of Millennium: The Complete Second Season, it arrived in time for Sunday's release date of 27th September 2004. It was worth the wait and immediately I was very content to see that the exact same high level of care and effort had been spent by Twentieth Century Fox on the design and packaging. Regular site visitors will know that the issue of whether this release would be in 16:9 ratio wide-screen or not was a bone of contention over the last few months. To add final clarification on this matter, yes the Season Two release is in 1.78:1 (16x9) Full-frame Wide-screen ratio, exactly as Fox reassured us a few weeks ago after various sites (including various Fox sites and their own Press Release) mistakenly printed it would be in 4x3.
The packaging is in the same style as Season One, a 6-disc DVD Case contained in a cardboard outer sleeve. I"ve taken some photographs and scans of the packaging which are below and you may want to discuss them on the forums at This Is Who We Are.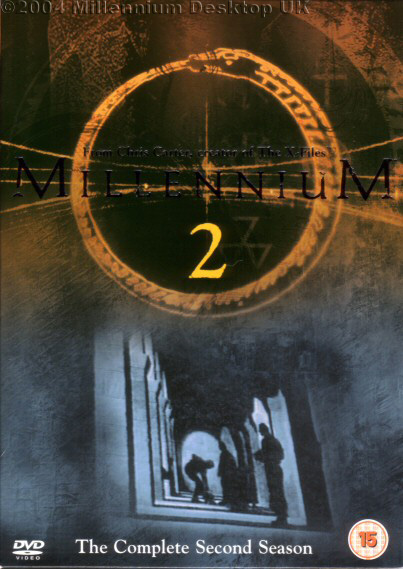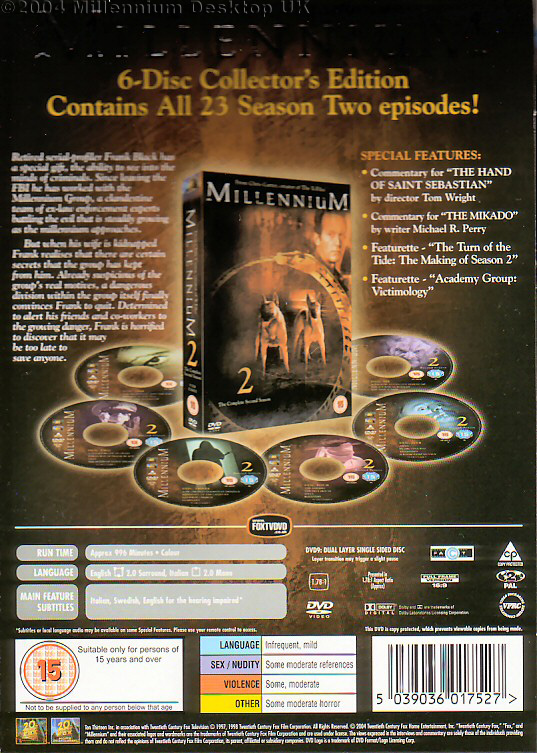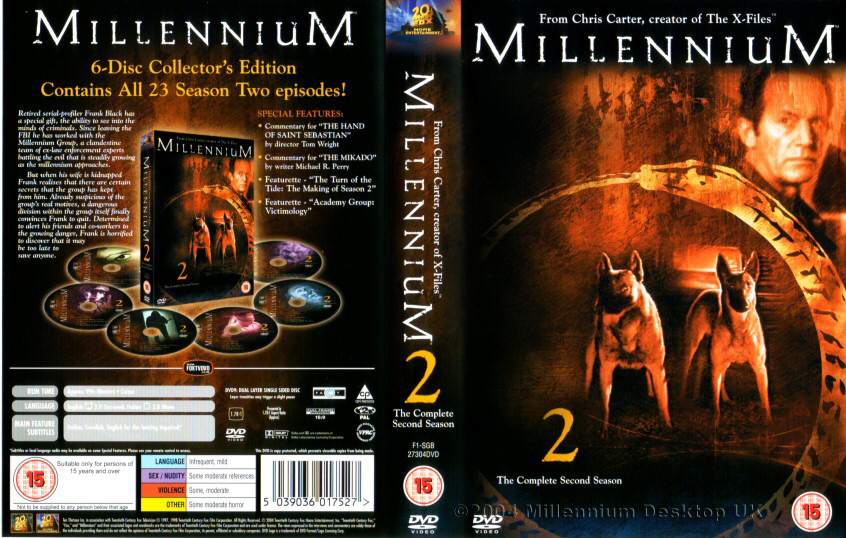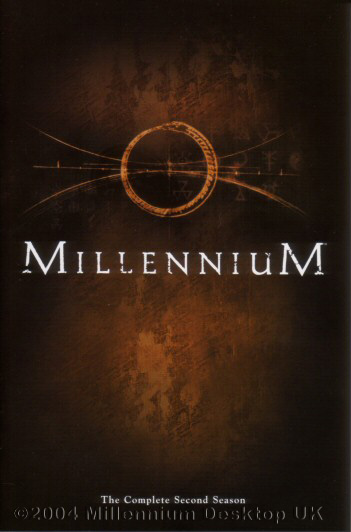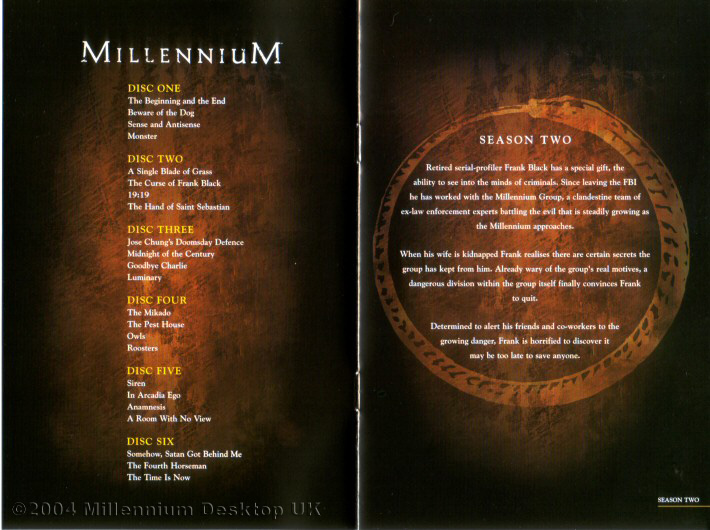 The following contains spoilers which some visitors may not wish to read until they watch Season Two for themselves.
I"ve also had the pleasure of watching the special features (like many UK fans today!) and I can confirm they were a pleasure to watch and it was once again wonderful to see our favourite actors as they fondly recall the show and its trivia. Interestingly a large part of The Turn of The Tide: The Making Of Season Two concentrates on Season Two's introduction of Morgan and Wong. Its also quite clear that the show's creative team and cast are more than aware of the divide of opinion between fans as to whether the introduction of the mythology arc and "true" nature of The Millennium group are a good thing or not.
Fans will identify with the various takes of this on view, depending on who is interviewed at the time and their own feelings about whether the decision to modify the show's core was a wise move or not. More surprising is a small text notice at the end of the documentary which adds to the speculation, at least for me.
My own opinion; yes Season Two contains my favourite episodes and whilst I loved the ancient mythology behind the Group, I believe it was unfortunate to make the Group an evil cult entity, everyone knew Carter's premise of The Group was based on the real life Academy Group and it was realistic and genuine during Season One, for me it was wrong to tamper with that.
The Turn of The Tide: The Making Of Season Two includes interviews with Lance Henriksen both recent and archived in the form of a 1997 interview, which also contains footage of other cast members such as Megan Gallagher (Catherine Black) and Kristen Cloke (Lara Means). Chris Carter opens the documentary with the astonishing revelation that he had never seen all of Season Two! He adds that he wants to view it to completion though! Other cast and crew recollections and opinions are provided by John Peter Kousakis (Co-Executive Producer), Michael Perry (Writer and Producer), Ken Horton (Co-Executive Producer), Director Thomas J. Wright, Mark Snow (Composer) and Chip Johannessen (Writer and Co-Producer).
Included in the documentary as opposed to additional Special Features are behind the scenes footage from A Single Blade Of Grass and Monster. Discussion on the background for the classic and much favoured episode The Mikado is provided including trivia about why Fox ordered the serial killers name to be changed from Omega to Avatar.
Composer Mark Snow refers to the connection between Frank Black and Bobby Darin whose music would be used most fittingly throughout Millennium Season Two. Academy Group staff once again add to the melting pot both in this documentary and the excellent separate feature Victimology. Megan Gallagher relates to her favourite episode Anamnesis and her role in The Time Is Now, adding thought about how it affected her afterwards especially with regard to Britney Tiplady (daughter Jordan Black).
Frank Spotnitz raises the introduction of Darin Morgan and brings into subject matter the occasionally humorous diversions of Season Two. The documentary would not be complete without discussion the classic episodes Jose Chung's Doomsday Defense and Somehow Satan Got Behind Me (from Production designer Mark Freeborn). Lance Henriksen discusses his role as Rocket McGrain along with composer Mark Snow.
I feel once again that fans will be saddened that there are no deleted scenes given that the set is clearly labelled Collector's Edition and more importantly essential interviews with Sarah-Jane Redmond (Lucy Butler) and Brittany Tiplady are once again missing. However the presentation and wonderful imagery that is Millennium has been accurately provided for and is always a please to behold. Fox are once again to be congratulated on their renewed dedication to the show.