31st January 2005 By Graham P. Smith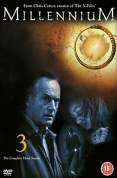 Millennium fans in the Region 1 DVD area which includes the USA and Canada can breath a sigh of relief. 20th Century Fox have confirmed the release date for the third and final season of Millennium to be released onto DVD format. Fox TV on DVD have added Millennium: The Complete Third Season to their list of forthcoming titles with a June 14th 2005 release date. Expect to see the same special features as the UK Region 2 version released last October:
Audio commentary on "The Innocents" episode from Lance Henriksen and Klea Scott
Audio commentary on "Collateral Damage" episode from director Tom Wright
Bonus X-Files tie-in episode "Millennium"
"Inside Look": Season 3
Interactive menus and Chapter selection
The final season of episodes comprise:
1. The Innocents
2. Exegesis
3. Teotwawki
4. Closure
5. ...Thirteen Years Later
6. Skull And Bones
7. Through A Glass, Darkly
8. Human Essence
9. Omerta
10. Borrowed Time
11. Collateral Damage
12. The Sound Of Snow
13. Antipas
14. Matryoshka
15. Forcing The End
16. Saturn Dreaming Of Mercury
17. Darwin's Eye
18. Bardo Thodol
19. Seven And One
20. Nostalgia
21. Via Dolorosa
22. Goodbye To All That
MDUK will bring you confirmation of special features and on-line retailers as soon as they become available. Until then, Millennium fans may wish to discuss the forthcoming release at TIWWA's Millennium on DVD Forums.