14th March 2005 By Graham P. Smith
Regular visitors to This Is Who We Are will have been following the often hilarious series of Millennium Episode Screen Captures that have been created by Millennium and X-Files fan Chrisnu.
If you haven"t yet had the pleasure of seeing them, head over to Chrisnu's Millennium Captures Website where you can now find these comic stills from every Season One and Two episode of Millennium. Alternatively, head over to TIWWA's dedicated DVD Screen Capture Forum where you can chat about these and tell others which you think are the most funniest!
My personal favourite so far, is from the light hearted episode Somehow, Satan Got Behind Me by the genius Darin Morgan, which you can view here. This episode featuring four vile Demons discussing their favourite methods of causing grief and distress to the human race and the facility of Frank Black to see them as they really are (devils) whilst sitting in a donut shop was brilliant to begin with. The fun captions however are brilliant, my favourite being: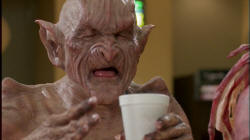 "I love the taste of urine in the morning!"
If you"ve seen this episode, you"ll understand why!