13th May 2005 By Graham P. Smith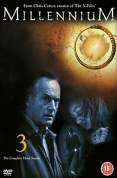 Thanks to a very supportive contact at Twentieth Century Fox UK, I was recently able to confirm the revised release date for the US/Canada Region 1 Millennium: The Complete Third Season. The DVD Box Set will be released on September 6th 2005. We don"t have any explanation as to why it was put back from an earlier summer release but I"m sure the months will pass quickly.
The same date was also recently discovered by one of our Message Board's Moderators, "Voidprime" from US based sources and the news from our UK based Fox contact would seem to further validate the information.
Further information on the change of date can be found at the excellent TVShowsOnDVD.com.