22nd August 2005 By Graham P. Smith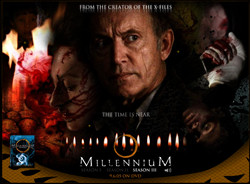 Many thanks to Bill who contacted the site to share news that the official 2004 Fox Millennium website has been updated to include the final Season Three content. In readiness for the DVD release of Millennium: The Complete Third Season, the Flash based website now includes previews of the third Season DVD Extra's, new Millennium desktop backgrounds in sizes up to 1280x1024 plus other other Season Three content such as Gallery photographs.
Millennium: The Complete Third Season will be released in the USA and Canada (DVD Region 1) on September 6th 2005 but is available for pre-order here.
Visit the Fox Millennium website to access the new Season Three content.