18th February 2007 By Graham P. Smith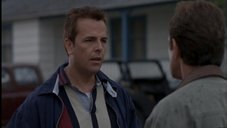 Randy Stone, better known to Millennium fans from the Season Two episode Beware of the Dog as character Michael Beebe, sadly passed away last week aged just 48. The on-line obituary (pointed out by TIWWA Staff Member Libby) is due to be removed from the LA Times website in a few weeks, so it will be preserved here for posterity and out of respect. Randy was the casting director at 20th Century Fox Television responsible for casting both The X-Files and Millennium. As an actor, Morgan and Wong prompted him to appear in Space: Above and Beyond and The Others in addition to Millennium.
STONE , Randy (48)
Died of heart failure at his home in Beverly Hills on Monday, February 12. Although he started his career as a child actor, Randy made his name as a television casting director, cutting his teeth at The Landsberg Company. He won an Emmy for casting the movie of the week "The Incident".
As Head of Casting at 20th Century Fox Television he was responsible for shaping the "The X Files" and "Millennium". He developed and executive produced the feature film "Little Man Tate" with Jodie Foster and Dianne Wiest. He won an Oscar in 1994 for producing the short film "Trevor," a tender and humorous tale of a young gay boy's attempted suicide. Most recently, Randy produced the Lifetime film "A Little Thing Called Murder," starring Judy Davis, for which he won the International Press Academy's Satellite Award. The movie was based on the bizarre true crime story of Sante and Kenny Kimes.
Randy also co-founded The Trevor Project, which operates a national 24-hour hotline for gay and questioning teenagers and distributes educational materials to schools around the country to help troubled teens.
Randy is survived by his two sisters Marie and Malia, his brother Jeff, his mother Beverly, his father Richard and his two Chow Chows, Cooper and Lola. Here was a man that was so full of life, brimming with a kooky charm that lit up the room. His passionate spirit and tireless friendship will be missed by all.
Services were held on Friday at Forest Lawn's Old North Church, 6300 Forest Lawn Drive. In lieu of flowers, donations may be sent to The Trevor Project, 9056 Santa Monica Blvd., Ste 100, West Hollywood CA 90069.
Published in the Los Angeles Times on 2/15/2007