22nd March 2007 By Graham P. Smith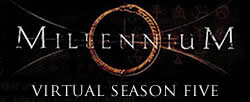 Millennium - Virtual Season Five's concluding episode will signal the end of the series as a whole on BVC, it was announced today. The finale will mark the show's 111th episode, totalling both official and virtual scripts.
The decision was made not to push forward with a sixth season following discussions between network bosses at BVC and the VS5 production team.
"We feel the time is right to bring Frank's story to a natural end," showrunner James Jordan commented. "We had always approached this season as the show's last, and while the positive reaction of the audience and the wealth of storytelling possibilities made continuing a tempting possibility, we want to stay true to our original intentions and honour where the journey of the characters is taking them."
BVC network president Tony Black stated: "BVC has been extremely proud of what VS5 has so far achieved, and will no doubt continue to achieve for the remainder of its run. But we'd rather Millennium go out on a high, which is why Frank Black's story will conclude this summer. Whether he'll get a happy ending or not is something you'll have to tune in yourselves and find out!"
The first virtual continuation that scripted a fourth season followed close on the heels of the finale of the parent show in July 1999, and wrapped in December of that year. The virtual fifth season, from a different creative team, premièred in January 2007 and has met with consistently strong critical acclaim. It is currently in the middle of its 22-episode run.
VS5 will air the Millennium series finale on June 1st. It will also mark the close of the inaugural season of BVC programming.
Millennium Virtual Season 5 is a product of Triple Five Productions, for Blackster Virtual Community, in association with This Is Who We Are. Anthony J. Black and James Jordan serve as Executive Producers. Millennium was originally created by Chris Carter for 20th Century Fox Television, each of whom own all their respective properties and copyrights and do not endorse the virtual season in any way.