11th April 2007 By Graham P. Smith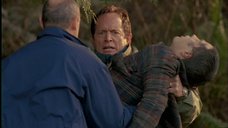 Last September we reported that Jon Krakauer's best selling book Into the Wild, the novel which inspired Millennium's second season episode Luminary is to make the transition to the silver screen. It follows the young, idealistic Christopher McCandless (Emile Hirsch) as he abandons life as most of us know it for the Alaskan wilderness. Into the Wild is being directed by Sean Penn and his based on his screenplay.
IMDB have now posted Worldwide release dates for the film as follows:
Country Date
USA 21 September 2007
Sweden 2 November 2007
UK 2 November 2007
Norway 9 November 2007
Belgium 21 November 2007
Netherlands 22 November 2007
Denmark 30 November 2007
Finland 30 November 2007
Turkey 7 December 2007
Spain 4 January 2008
Germany 28 February 2008
Visit the IMDB for more information.