16th April 2007 By Graham P. Smith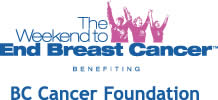 During August later this year, actress Sarah-Jane Redmond (fondly remembered as Millennium's Lucy Butler) will be participating in a fund raising event for cancer research. Please follow the link below to find out more, and the ways you can help contribute.
Sarah-Jane's pen letter to Millennium fans:
Hi,
On August 17-19, 2007 I"ll be participating in a very special event called The Weekend to End Breast Cancer.
I"ll walk 60 kilometres over the course of one weekend with thousands of other women and men. The net proceeds will support breast cancer research, treatment, and services through the BC Cancer Foundation.
I"ve agreed to raise at least $2,000. Would you please consider making a donation? Use the link at the bottom of this email, and go visit my site - and thank-you for taking the time to support me.
According to the National Cancer Institute of Canada, approximately 20,500 Canadian women will be diagnosed with breast cancer this year, and about 5,400 will die from the disease. That's why I"m walking so far. To do something bold about breast cancer. I hope that you"ll share this incredible adventure with me - by supporting me in my fundraising efforts.
Thank you in advance for your generosity!
Please visit my personal page.

Sincerely,
Sarah-Jane Redmond
SarahJaneRedmond.com