28th May 2007 By Graham P. Smith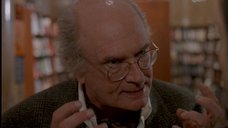 Sad news has reached fans of actor Charles Nelson Reilly, the much loved actor who portrayed José Chung on the television shows The X-Files and Millennium. Sadly Charles passed away in May 2007 aged 76. Charles was perfectly cast for his role as the comical but controversial writer José Chung in the Millennium episode Jose Chung's 'Doomsday Defense' who came to Frank Black and the Millennium Group for help when a bizarre religious group called Selfosophy, which he'd recently written a very unflattering short story about, placed a price on his head.
May 28, 2007, 12:22AM
Game show panelist Charles Nelson Reilly dies at 76
By PATRICK MCGEEHAN
New York Times
Charles Nelson Reilly, who acted and directed on Broadway but came to be best known for his campy television appearances on talk shows and Match Game, died Friday in Los Angeles. He was 76 and lived in Beverly Hills, Calif.
The cause was complications of pneumonia, said his partner, Patrick Hughes, who is his only immediate survivor. Reilly had been ill for more than a year.
Long before moving west to become what he ruefully described as a "game show fixture," Reilly was an actor and an acting teacher in New York City.
In 1962, he won a Tony Award for his portrayal of Bud Frump in the original Broadway production of How to Succeed in Business Without Really Trying.
But he was proudest of The Belle of Amherst, a one-woman play starring Julie Harris based on the life of Emily Dickinson, which he directed on Broadway in 1976, said Timothy Helgeson, who collaborated with him.
Two decades later, Reilly directed Harris and Charles Durning in a revival of The Gin Game. He was nominated for a Tony for best director in 1997, and Harris was nominated for best actress.
His final work was an autobiographical one-man show, Save It for the Stage: The Life of Reilly, in which he recounted his difficult childhood.
Born in the Bronx, the only child of a Swedish mother and an Irish father, Reilly told of the pain of being considered the oddest member of a decidedly odd family.
In the 1970s and 1980s, Reilly, with his ascots, oversize spectacles and over-the-top penchant for double-entendres, was a regular on television.
He appeared more than 95 times on the Tonight show with Johnny Carson and was a panelist on game shows like Match Game and Hollywood Squares..
Thanks to Millennium fan Joe McBrayer for advising of the tragic news.