18th August 2008 By Graham P. Smith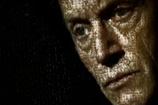 As previously reported back in June, television channel Zone Horror are continuing with their plans to screen Millennium soon, and have now published a short but cool promotional trailer featuring our favourite fictional criminal profiler Frank Black.
Zone Horror currently broadcasts in the UK on Sky Digital Channel 319, Virgin TV Channel 170 and Freesat Channel 138 as the UK's number one destination for Horror movies and programmes about the people who make them. Viewers on Sky have a second chance to watch Zone Horror's programmes one hour after their initial transmission with their "+1" channel on Sky channel 320.