26th September 2008 By Graham P. Smith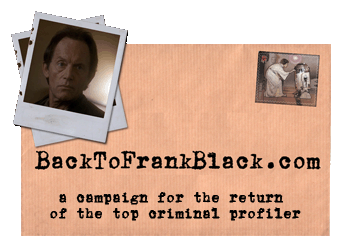 During September 2008, work commenced on a promotional campaign entitled Back to Frank Black to gather support and increase awareness of the demand for a Millennium movie. Inspired by the comments of Lance Henriksen and Frank Spotnitz, several of our forum members, led by Laredo (Jim) and ethsnafu (Mark) are creating a website with the assistance and collaboration of other respected fans, with a view to maximizing online interest with downloadable banners and information on who Frank Black was and why he should return. The campaign will encompass a professional, respectful and ethical letter writing campaign.
The campaign website is being sponsored by our forum This Is Who We Are and can be found at BackToFrankBlack.com.