2nd December 2008 By Graham P. Smith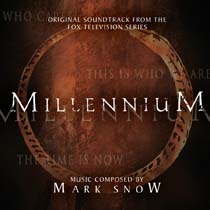 LaLaLand Records has released a limited edition 2 CD set of Mark Snow's music from Millennium on Tuesday, December 2 2008. The first 100 orders will be autographed by composer Mark Snow and only 2000 copies of the release will be made available. The 2 disc sets will ship on 16th December. Preview tracks are available on the order page at LaLaLand.
This is an ideal opportunity to buy music from Chris Carter's Millennium, many of these tracks have never before been made available. Members of our message board were chomping at the bit waiting until the scheduled release time of 12PM PST (8pm GMT) in order to procure a signed copy. According to the website, these signed copies have now all been sold but at this current time there still appears to be unsigned stock available. Hopefully the fans of the show will beat the collectible traders for once.
Thank you to Alex and Anephric for sharing the wonderful news, and special thanks to LaLaLand Records and Mark Snow for making this dream release possible.
TRACK LISTING:
DISC ONE
Main Title A (0:53)
PILOT
Big Yellow House* (1:56)

Rain (3:30)

Exterminated (4:53)
BLOOD RELATIVES

THE WELL WORN LOCK
Lock (2:45)

Lock Part Two (0:57)

THE WILD AND THE INNOCENT
Death Prayer* (3:32)

MARANTHA
Chernobyl* (4:00)

Yaponchik (1:00)

Myth No More / Antichrist (5:07)

Saviour (7:49)

PAPER DOVE

THE BEGINNING AND THE END
Headlights* (2:53)

Check / Get It Back Again (1:39)

MONSTER
Henny Penny* (1:53)

M-Files* / Litle Pigs (5:00)

THE CURSE OF FRANK BLACK
Jack O" Lantern (1:20)

Battery (2:04)

Acts (1:48)

790 Days (4:03)

THE HAND OF SAINT SEBASTIAN
Comatose* / Origins / Woods (1:22)

JOSE CHUNG"S DOOMSDAY DEFENSE
Goopy (Alt) (5:37)

Final Chapter (1:42)
End Title (0:33)

Total Time - Disc One (74:27)
DISC TWO

MIDNIGHT OF THE CENTURY
Delete* (1:39)

Branches / Angels (4:52)

OWLS
Damascus (4:36)

The Subject 3:41)

Aerotech
ROOSTERS
Trail (1:14)
SOMEHOW, SATAN GOT BEHIND ME
Alarm (1:51)
Sympathy For The... (2:20)
THE TIME IS NOW
Hot Birds (1:33)

The Peter Principle (3:07)

Catherine (2:33)
CLOSURE
Candy (7:30)
OMERTA
Santos Elves* (3:51)

Unwrapped Gift (2:48)

Love Jordan / Hobbit House (2:20)

The Way It Was (3:55)
GOODBYE TO ALL THAT
Shrapnel* (3:54)

Channel 14 (4:15)

Locked Out (1:21)

Drilling (4:56)

End Title (0:37)
BONUS TRACK
Main Title - Vocal Remix (0:50)

Total Time - Disc Two: 74:20
* - CONTAINS MUSIC BY JEFF CHARBONNEAU
UPDATED: The links to the previews which have since become unavailable have now been updated. You can also learn more on our dedicated page for this soundtrack, Millennium Limited Edition 2008 2 Disc Original Soundtrack by Mark Snow.