11th February 2002 By Graham P. Smith
Scouring the abyss that is the World Wide Web for Millennium related information and articles led me to a Millennium skin for WinAmp v1.92 and upwards. I thought it may be of interest to Millennium fans who use WinAmp for their music.
I can"t vouch for it as I don"t use WinAmp and unfortunately the site doesn"t give away much about its creator. If you get it to work, drop me a line.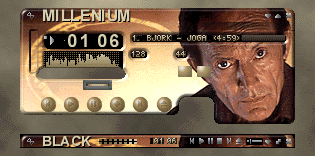 Spotted the mistake? Download the Millennium Winamp Skin from here