22nd April 2009 By Graham P. Smith
Introducing the new M-TIWWA Browser Search Extension:

You can now search our website directly from your browser with the new M-TIWWA Search plug-in!
M-TIWWA Search has been tested with Firefox and Internet Explorer and allows you to search 1000's of pages from M-TIWWA quickly and easily, from any web site or web page. Simply enter your search key words into the M-TIWWA Search box or right click on a phrase in any web page to search our website. This is ideal if perhaps, you are browsing our forums and quickly want to access an episode profile for Gehenna, learn more about a character or search an episode transcript.
To install M-TIWWA Search:
Firstly go to our website's home page. If you are using Firefox, the search tool will glow to show you there is a search tool available for the M-TIWWA website.

If you are using Internet Explorer 7 or later, it looks like this: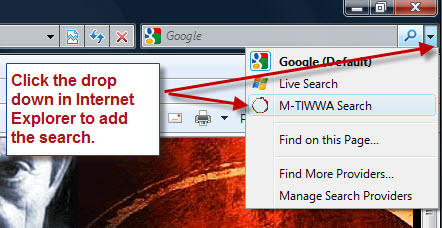 Choose the option to add the M-TIWWA Search to your browser: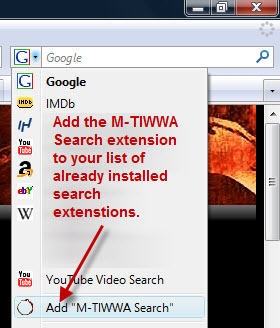 Just enter your search keywords to search M-TIWWA. You can do this whilst viewing any other website, in other words you don"t have to visit the M-TIWWA website first to perform a search!

Right Click Search option:
If the M-TIWWA Search tool is currently activated and you want to search our website for text, just highlight the text on the a web page of forum and select Search M-TIWWA for the highlighted words or phrase as shown: