6th May 2009 By Graham P. Smith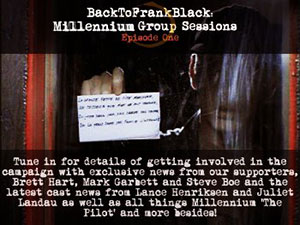 BacktoFrankBlack: The Millennium Group Sessions, hosted by Troy Foreman and co-hosted by Jim McLean is now available for free download via BackToFrankBlack.com and on iTunes!
In the 60 minute pilot episode, Troy Foreman and Jim McLean keep you interested as they discuss the campaign's background information, news updates and there's a chat about the pilot episode of Millennium. You don"t need an IPod or iTunes so don"t let the name Podcast frighten you away! If you do have an MP3 player, MP3 capable phone or iPod, the Millennium Group Sessions makes for great listening, even on the train whilst you are commuting or during your lunch break!
Head over to BackToFrankBlack.com for the download link and instructions on how to find the enhanced version on iTunes. As its a large file, I"d recommend downloading it first for smoother playback, as opposed to streaming it via Windows Media Player especially if you are on a slow connection.
Congratulations are extended to Jim, Mark and Troy for a wonderful and interesting hour's entertainment. Well done guys and thanks for continuing to fight the good fight!