21st September 2009 By Graham P. Smith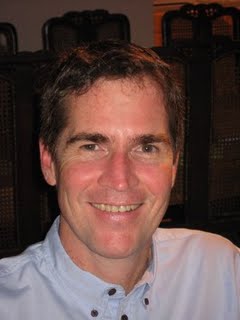 Millennium - This is who we are would like to extend its congratulations to respected writer and producer Chip Johannessen on his successful election to the The Writers Guild of America, West (WGAW) Board of Directors.
Whilst serving in various roles including Co-Producer, Consulting Producer and Executive Producer throughout all of Millennium's 3 seasons, Chip was responsible for writing and co-writing 13 episodes of Millennium, highlights of which include introducing us to the shows first look at the uncertainty of the approaching millennium with Force Majeure, the outstanding second season episode Luminary and co-writing the finale episode Goodbye To All That with Ken Horton.
The September 18, 2009 press release from the WGAW:
Writers Guild of America, West Announces Final Results of 2009 Officers and Board of Directors Election
LOS ANGELES -- The Writers Guild of America, West (WGAW) has announced the final results of its 2009 WGAW Officers and Board of Directors election.
The following members were elected to serve as Officers: President – John Wells; Vice President – Tom Schulman; Secretary-Treasurer – David N. Weiss.
"I'm remarkably humbled by the membership returning me to the Presidency of the Guild.  I look forward to working with the Board again and to working with David Young and his talented staff to meet the many challenges that lie ahead,rdquo; said Wells.
ldquo;My congratulations to John Wells for his success in a hard-fought campaign. And my congratulations to all members elected to the board. We writers can be somewhat argumentative and opinionated, as anyone who has ever sat around a writers' table knows. This campaign certainly highlighted some our differences. Now, it's time to pull together and work for the benefit of us all,rdquo; said Elias Davis.
The following nine members were elected to the WGAW's Board of Directors: Patric M. Verrone, Howard A. Rodman (inc.), Dan Wilcox (inc.), Linda Burstyn, Billy Ray, Steven Schwartz, Chip Johannessen, Carleton Eastlake, Ian Deitchman.
There was a tie for the eighth seat on the Board of Directors. Under the Guild's constitution, both candidates will be seated.
NUMERICAL RESULTS: President: John Wells (1,191, 52.8%); Vice President: Tom Schulman (1,204, 55.5%), Secretary-Treasurer: David N. Weiss (1,114, 53.3%). Board of Directors: Patric M. Verrone (1,364, 10.1%), Howard A. Rodman (1, 270, 9.4%), Dan Wilcox (1,132, 8.4%), Linda Burstyn (953, 7.1%), Billy Ray (915, 6.8%), Steven Schwartz (914, 6.8%), Chip Johannessen (865, 6.4%), Carleton Eastlake (818, 6.1%), Ian Deitchman (818, 6.1%).
The Officers and Board members will serve for a term of two years, effective immediately.  
OTHER RESULTS: Candidates for Officers: President: Elias Davis (1,066, 47.2%); Vice President: Howard Michael Gould (967, 44.5%); Secretary-Treasurer: Christopher Keyser (976, 46.7%). Candidates for members of the Board of Directors: Mick Betancourt (766, 5.7%), Jeff Lowell (745, 5.5%), Jan Oxenberg (725, 5.4%), Luvh Rakhe (636, 4.7%), David Wyatt (511, 3.8%), Jennifer Heath (437, 3.2%), Eric Wallace (273, 2.0%), Jed Weintrob (239, 1.8%).
A total of 2,348 valid ballots were cast, making this one of the largest election voter turnouts in WGAW history – illustrating ongoing Guild member engagement. The ballot count was supervised by Robbin Johnson of Pacific Election Services, Inc., an independent firm.
The Writers Guild of America, West (WGAW) is a labor union representing writers of motion pictures, television, radio and Internet programming, including news and documentaries. Founded in 1933, the Guild negotiates and administers contracts that protect the creative and economic rights of its members. It is involved in a wide range of programs that advance the interests of writers, and is active in public policy and legislative matters on the local, national and international levels. For more information on the WGAW, please visit: www.wga.org. 
Below is a pre-election statement from Chip Johannessen, together with a list of his supporters including some very familiar names...
July 20, 2009 Chip Johannessen
"If the Writers Guild didn't exist we'd have to invent it."
Sid Sheinberg said that at the height of the 1988 strike, when he was head of Universal. But that was before Universal was sold to a Japanese electronics manufacturer, who sold it to a Canadian distillery, who sold it to a French bottled water company, who sold it to General Electric, the fifth biggest corporation in the U.S. That was before the only "independents" in town were called SONY and Warners. You think if the Guild didn't exist that anyone at these mega-companies would consider inventing it?
Our strike in 2007 was unwanted, and brutally painful, but it was necessary to guarantee that the
WGA
doesn't vanish as our work moves to the internet. The companies' strategy was to side step us entirely as distribution changes, but there we are. Now we need to stay strong for the negotiations ahead.
OUR LEVERAGE - UNITY
The more united we are, the more leverage we have.
We're an odd union. Members don't make the same hourly wage. One member worries about free rewrites, another about bad cable residuals. And seniority is a mixed blessing. We came together for the strike, but there is much that divides us, and those divisions were apparent by the time the strike ended. Even more sobering, in the last year we've seen SAG's fractured negotiations play out as a cautionary tale about what disunity can wreak.
Going into the next round of negotiations I believe we should focus on a short list of items that unite us. Not only because that's what concerns more of us, but because it makes us stronger. Issues not germane to the entire membership (I vaguely remember mandatory premiere invitations for screenwriters making the cut 5 years ago) weaken our hand at the bargaining table.
Here's my list and I'm eager to hear yours. First: enforcement, making sure we are actually paid what is due. The companies were already ducking payments from the 2004 agreement, let alone what we won in 2008. In a future where everything is fragmented and streamed, we'll be empty handed unless we lock down enforcement now. Next: health and pension, which are suddenly in play given the national health care discussions going on in Washington. Finally: residuals, but how about focusing on a number that affects us all. Electronic sell through is essentially the much hated DVD formula. Let's make some progress on that.
Coming off a successful strike, for the first time in decades we're serious, we have heat. We don't want to squander it by battling each other instead of the companies.
THEIR LEVERAGE - CONSOLIDATION
The bigger they get, the less leverage we have.
It took thirty years of litigation for the media companies to turn the airwaves from a public trust into their own private property. The internet could go overnight. "Who owns the internet" is not just a political question. Mainly it's decided in the courts, and it affects us profoundly.
I spent a lot of time in law school studying the sad history of media consolidation, and along the way met the public interest lawyers who attempt to rein in the companies. As a board member, I would reach out to these people as natural allies. I'm not saying we should bring lawsuits or hire lawyers. We shouldn't. But we can protect our interests by making sure that attorneys know how media consolidation threatens our creative and financial positions, by offering testimonial support and even, on occasion, an amicus brief.
Our work is migrating to the internet, that's what our strike was about. We have a real stake in the litigation that is sure to come and I think our voice should be heard.
EYES ON THE PRIZE
We've been through a lot the last couple of years, and we want to make sure that it brings us more than a $2.00 internet residual check. I think I can help. Because I'm a lawyer, but more importantly because I'm a working writer.
I've freelanced and staffed and had pilots made, gotten overalls and been given shows to run, been fired and force majeured. For nearly two decades I've had the privilege of sitting in second rate conference rooms with first rate people, talking and writing about all kinds of amazing things.
The fact I was fairly compensated for this I owe to the Guild. It's impossible for me not to have the best interest of this organization at heart.
I'll do my very best to build on what this Guild started back in 1933 and what the current leadership continued when they landed us safely on the internet. I'm asking for your vote.
CHIP'S BIO
Chip
Johannessen
is a television writer and showrunner whose credits include 90210, The X-Files, Millennium and 24. He graduated with honors from Harvard College where he wrote for The Harvard Lampoon and recently earned a J.D. from the UCLA School of Law. Right now, he's happily on 24.
CHIP'S ENDORSEMENTS
WE SUPPORT
CHIP
JOHANNESSEN
:
A WRITER WITH A LAW DEGREE
We're television and feature writers who urge you to elect
Chip
to the
WGA
Board. He's been a force in one hour television for nearly twenty years, from story editor to show runner, so he understands what we face as working writers. He also brings with him an in-depth knowledge of many of the legal issues that affect our future as a union. He's smart, informed and he's passionate about building on the gains we worked so hard to win.
Chip
Johannessen
will be an invaluable addition to the Board. Please give him your vote.
Adam Belanoff
Al Jean
Al Septien
Alex Gansa
Alfredo Barrios, Jr.
Andrea King
Andrea Newman
Anne Cofell Saunders
Art Monterastelli
Bert Salke
Bill Oakley
Billy Kimball
Brannon Braga
Brian Studler
Bryan Miller
Carroll Cartwright
Charles Rosin
Charlie Tercek
Chris Brancato
Chris Carter
Chris Easterly
Cliff Olin
Dan Dworkin
Dan Fesman
Dan Greaney
Daniel Sinclair
Danny Strong
Dave Andron
David Fury
David Greenwalt
David Hudgins
David X. Cohen
David Zabel
Diane Ademu-John
Erin Maher
Evan Katz
Gavin Harris
Genevieve Sparling
Geoffrey Nauffts
George Meyer
Howard Gordon
Ian Maxtone-Graham
James Duff
Janine Sherman Barrois
Jason Cahill
Jason Wilborn
Jay Beattie
Jeff Martin
Jenna Bans
Jennifer Flackett
Jennifer Levin
Jessica Klein
Jill Blotevogel
Jim Leonard
Joan Rater
Joel Cohen
John Brancato
John Frink
Jon Feldman
Jonas Pate
Jonathan Collier
Jonathan Mostow
Jordan Hawley
Jose Molina
Josh Pate
Joy Blake
Juan Carlos Coto

Julia Swift
Julie Auerbach
Julie Siege
Kay Reindl
Ken Horton
Ken Keeler
Ken Martin
Kevin Curran
Larry Mollin
Laurie McCarthy
Lawrence O'Donnell, Jr.
Loren Segan
Maiya Williams
Manny Coto
Mark B. Perry
Mark Levin
Mark Wilding
Matt Selman
Max Pross
Melissa Blake
Melissa Rosenberg
Meredith Stiehm
Michael Alaimo
Michael Foley
Michael J. Cinquemani
Michael R. Perry
Michael Rowe
Mike Berchem
Mike Ferris
Mike Reiss
Moira Kirland
Molly Newman
Nancy Miller
Natalie Chaidez
Neal Baer
Nell Scovell
P.K. Simonds
Patrick Harbinson
Pete Nowalk
Peter L. Chen
Phyllis Strong
Rene Echevarria
Rick Muirragui
Rob LaZebnik
Ron Hauge
Ron Koslow
Sam Humphrey
Sarah Goldfinger
Shannon Goss
Sherri Cooper
Shintaro Shimosawa
Stacy McKee
Stephanie Ripps
Stephanie Sengupta
Steven Kane
Stewart Burns
Ted Mann
Thomas Wheeler
Todd Hughes
Tom Gammill
Tony DeSena
Tony Phelan
Trevor Munson
Valentina Garza
Vince Gilligan
Walon Green
Zoanne Clack
My thanks to Mark 'ethsnafu' Hayden and Libby for highlighting this news.