27th August 2012 By Graham P. Smith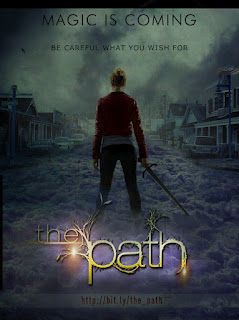 Here's an inspiring invitation for fans of Millennium writers Erin Maher and Kay Reindl to get behind their latest original project, The Path. Erin and Kay have teamed up with Smokebomb Entertainment, a Canadian digital media production company, to produce a project for the Canadian Film Council Media Lab's IdeaBoost, an innovative creative development lab with a business model that focuses on pre-selling an idea to an audience rather than to advertisers. It has similarities to Kickstarter but IdeaBoost isn't about getting funding, instead it's all about a competition to gauge interest.

You can learn all about The Path at the website https://bit.ly/the_path. Smokebomb have created a video with Kay and Erin which explains their vision for the project and how fan participation is important to them and the project's success. The competition is based on the number of people who "Boost the project", 'Tweet' and 'Like' the project page.

Kay Reindl explains more over at Seriocity, Erin and Kay's blog...

"Instead of the same kind of focus group testing they've been doing for years, how cool would it be if a television network could gauge the size of an audience and know if there was a market for the show? That's the thought behind IdeaBoost. If successful, we'll make a digital series that could platform out into other mediums."

"The reason we were so jazzed about getting involved was because the people involved with the company were so jazzed about us doing an urban fantasy show. We've wanted to do a show set in this world for over ten years. But so far, we haven't gotten one produced. So now it's imperative."

So what's the The Path about? Here's the summary from over at Ideaboost...

We've all been there, that first day at a new school, terrified we won't fit in, that we'll be labeled with an unshakable designation that will follow us forever: Geek. Goth. Brain. Jock.

Fairy.

This is the shocking truth facing Delaney Connors, a level-headed, practical girl who discovers that everything she knows about herself is a lie. Her parents have been keeping a huge secret from her, the cute neighbor boy is super good with a sword, the school's queen bitch can turn her opponents into frogs, and her artsy new school is a gateway to a hidden world of magic. If this wasn't enough, Delaney has to learn to master frightening magical powers before an ancient war spills over into our world. And then there's her chemistry final...

Kay explains more about the digital series' premise...

"It's a show about fairies, but not the fairies that have been flitting across your television screen. These are real ones. They're vicious, and beautiful, and while they're drawn to humans because we can produce art and music and they can't, they also carry a grudge. A big one."
Head over to the project site for The Path where every Boost, Like and Tweet before September 18th counts in order to get the project into the next round, before a jury decides if the new series will get made!