22nd March 2017 By Graham P. Smith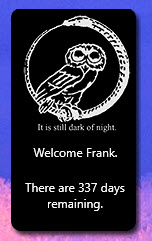 Fans of Chris Carter's Millennium television series may be interested to know that we have recently released a new pack of Windows 10 compatible desktop gadgets inspired by the series. The gadget pack requires the free Rainmeter desktop enhancement platform to be installed first.
The gadgets feature images inspired by Millennium, a Welcome Message from the Millennium Group, your name (optional) and the number of days remaining (you can edit the countdown) inspired by the Millennium television series. By default, when first installed each gadget displays the message "Welcome Frank", but the gadget can be easily configured to display any name and count down to any specific time and date you prefer.
The latest version of our gadget pack is available to download free via our TIWWA Downloads Manager here:
Millennium Gadgets Pack (for Rainmeter & Windows)
The pack includes 5 Millennium inspired gadgets, some with extra variants.
Frank Black Countdown 2.0
Halloween 'Spooky' Frank Black Countdown 2.0 (new)
Halloween Pumpkin Countdown 2.0 (new) with 2 selectable variations, animated with flickering candle and standard non-animated version.
Lucy Butler Countdown 2.0 (new)
Ouroborous Countdown 2.0 (new) with 3 selectable variations including standard gold Ouroborous, an animated rotating Ouroborous and the popular Owls version of the Ouroborous.
Helpful tips on using our new Millennium gadgets
Rainmeter is available from https://www.rainmeter.net/
Here's a short demo video (without sound) of the gadgets in action, showing how easy it is to customise each one. You can display one or more gadgets at any time and with some, change their visual style.