2nd March 2002 By Graham P. Smith
No! I haven't lost my mind! I was looking at the various Movie Trailers on QuickTime's Apple Trailers Site and was excited to see a Trailer for the forthcoming Spider Man movie. It was due to finish when I heard the immortal words... It's my Gift, It's My Curse...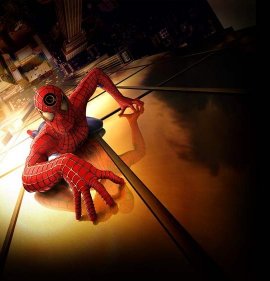 Did my ears deceive me or is it Frank Black secreted behind the famous web-slingers mask!? The last time we saw Frank Black (The Millennium/X-Files Cross-over never existed, did it?), he was driving into a rainbow covered sunset with Jordan in his Cherokee Jeep.