24th April 2002 By Graham P. Smith
Millennium News is a bit on the quiet side at the moment. Rumours about the suspected release of Millennium on DVD Format have also simmered down.
This weeks episode of Millennium in the UK is Wide Open. As usual, you can view episode stills and watch the original Fox Millennium trailers from the menu Bar. Enjoy!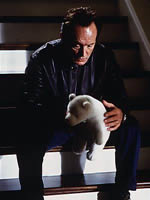 I would really like to upload all the Millennium Trailers but I simply don"t have the room on my ISP's Free Web space. Posting a weekly trailer seems to be the best compromise. Please let me know if you are enjoying them.