3rd September 2002 By Graham P. Smith
A scene from Sky One's TV Programming Schedule Meeting...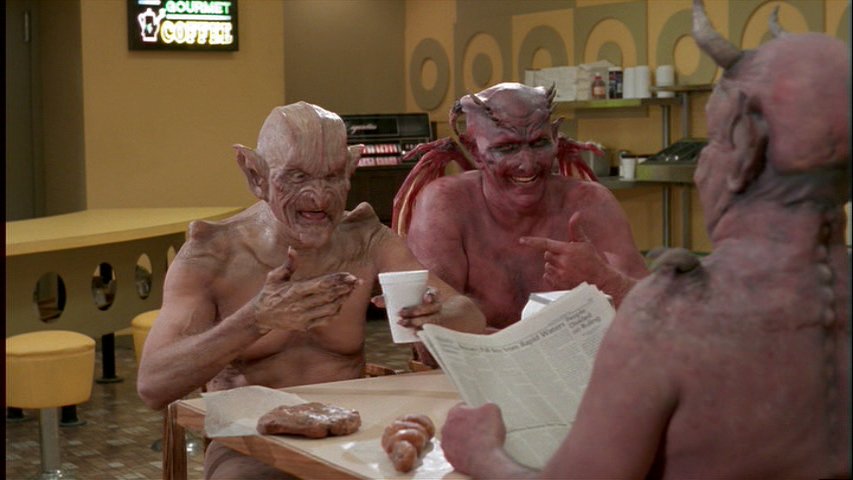 Upon checking this week's TV Schedule on Sky Digital's Sky One Channel, it would appear that Millennium fans will be shocked to discover that Season Two appears to have been cut short. The schedule for Sky One this week is as follows:
Tues 3rd Sept 0105 MILLENNIUM - Owls (Part 1 of 2)
Wed 4th Sept 0125 MILLENNIUM - Roosters (Part 2 of 2)
Thu 5th Sept 0100 MILLENNIUM - Siren
Fri 6th Sept 0100 MILLENNIUM - In Arcadia Ego
Sat 7th Sept 0100 MILLENNIUM - Anamnesis
Sun 8th Sept 0100 WWE SMACK DOWN
Mon 9th Sept 0100 IS HARRY ON THE BOAT?
It may be too soon to ask, but where are the outstanding episodes: A Room With No View, Somehow, Satan Got Behind Me, The Fourth Horseman and The Time is Now? Hopefully the question will be answered in the next few days...
It is unthinkable that UK based Millennium fans have been 'shafted" again after already having to wait over 5 years to see Season Two again. I speculate that perhaps the matter is connected to the situation below and Sky One have transferred the rights to UK Sci-Fi Channel with immediate effect?