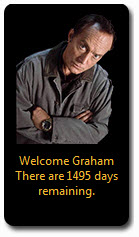 Today, we launch the second in what will will become a series of
Millennium
inspired gadgets for the Windows Sidebar. This time the Millennium Group's criminal profiler Frank Black arrives to welcome you to your desktop and in traditional Millennium style, lets you know how many days are remaining.
As
recently discovered
, although these gadgets are designed to work for Windows Vista, you can now also get them and 100's more gadgets working on Windows XP, so there's no need to feel left behind if you haven't yet taken the plunge for Microsoft's latest operating system. If you are still using XP, all you need is to do is install
Alky Sidebar
on XP first, and then download your choice of our
Millennium
themed gadgets.
[clear=left][/clear]
View our Millennium styled gadgets
.
We hope you like these new downloads, please let us know.