By now, our regular members will have gotten used to the majority of our new features on this latest release of our community software. This blog entry is the first in a series of such entries designed to identify, highlight and advise on some of the new features and changes at TIWWA in our forums, gallery and blogs, some of which you may not to be sure how to use or may have missed.
If you have a suggestion on an aspect of TIWWA that you would like to see covered here, please let me know and we'll do our best to cover it.
Our first entry covers.... wait for it... the new Member Reputation!
TIWWA now gives members the ability to rank an individual post up or down within the community forums, which encourages quality contributions and makes it easy to see for everyone which of our members have a great reputation in the community.
All members can click
or
on a post to give or subtract a reputation point, and the number next to the buttons shows how many points the post has received.
Points are accumulated for each member in our community, giving them an overall reputation rating which you can see in their member profile like this...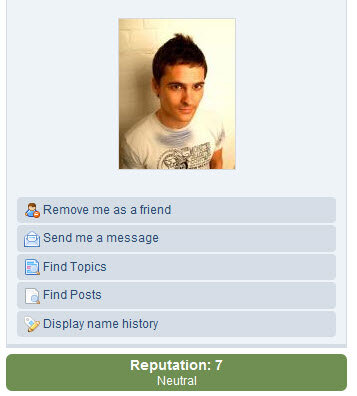 In the example shown above, you can see this particularly handsome chap has so far been awarded 7 points by members of our forums. Come on, he deserves much more rep!
So whenever you are browsing a topic and see a helpful member
, friendly reply, something that made you feel warm or fuzzy, a knowledgeable or in-depth post or even a post where someone has taken the time to welcome a new member or wish you a Happy Birthday, reward them and give them a reputation boost by awarding a point!
It goes without saying, that if you see a member post something negative, perhaps a rather unfriendly or an unhelpful post, someone trying to flame-bait or stir up trouble
, then you have the power to deduct a point.
Remember that you can still rate a topic accordingly with up to 5 stars, which highlights great topics for other members to see and join in, especially new members: