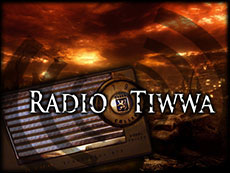 Radio TIWWA
returns with a fantastic new audio player to help celebrate TIWWA's 7th anniversary!
Radio TIWWA is loaded with
Millennium's
incidental music courtesy of Grooveshark.com, so why not keep this blog page open in one of your browser tabs or windows whilst you surf around and listen to your favourite Millennium tracks as you go!
My special thanks to Mark (ethsnafu) for his wonderful apocalyptic Radio TIWWA artwork!
[clear=left][/clear]