How to add a Twitter block to your blog
---
To add a Twitter content block to your free blog here at This is who we are, you just need to know 2 things:
Your Twitter username and your Twitter ID.
Your Twitter name should be obvious, its the part following the link to your Twitter page, so if your Twitter link is:
then your Twitter Username is Viivi_V.
To get your Twitter ID, its not so obvious but its easy to find. From your Twitter page, just click on the RSS link, and the ID number is shown in the url address bar of your browser:
http://twitter.com/statuses/user_timeline/21684147.rss
So for this example above, the Twitter ID would be 21684147.
Now that we have the 2 bits of required info, lets add a Twitter Block:
Go to your Blog, click the ADD BLOCKS button and choose TWITTER. The Twitter block will appear, possibly lower down your page.
It will be empty, so click on the Config option inside the block.
Insert your username, in this example it would be Viivi_V.
Insert your ID, in this example it would be 21684147.
Then you can select to show just your own Tweets or those of your friends as well.
You then click on SAVE SETTINGS, and your Twitter block will appear.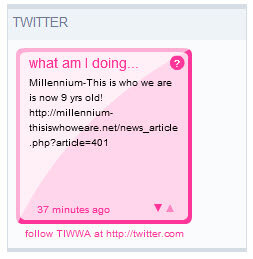 You can move it around your blog to position it where you like, just like any other block by dragging and dropping it, and it will slide into place. You can change its settings, or delete it altogether. Pink is the only available colour at this time, sorry!