What you like about Millennium!
---
Regular visitors to This is who we are will know that we have some optional Profile fields that members can complete at any time, which contain details about their favourite Millennium episodes, seasons, writers and characters. Its fun and of course will be of interest to other members and particularly our friends.
Up until now, we've automatically included the majority of this information next to your posts in the forums, but lately we noticed that there was a little too much and the author section next to each post was getting a little overgrown. In particular, there were some text fields that you could enter information such as your favourite 3 characters, but some members were entering quite long lists or 10 or so names which was breaking some skin layouts and making the board convoluted.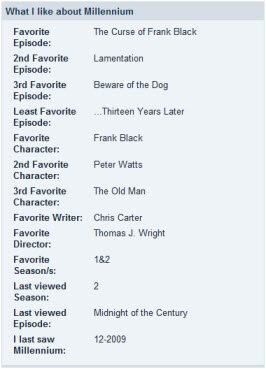 Today, I have tidied up this section of our profiles, renamed it "What you like about Millennium" and reduced the amount of this information that is shown next to your posts.
The "What you like about Millennium" section now allows you to list:
your top 3 favourite Millennium episodes and characters,
your least favourite episode,
your favourite Writer and Director
and your most recently watched episode and season.
Yes, some of this information was available before, but we've removed the text fields and now you quickly select your characters, episodes etc from the available drop down lists of names and titles, which also makes it impossible for some members to list too many or fill the list with unwanted text.
The information is displayed in your profile if you choose to make selections, but only your favourite season, episode and character will show next to your posts. This should reduce some of the clutter, make the pages quicker to load and your friends can still learn what your like and dislike about Millennium in your profiles.
If you have a suggestion for a field that you think would be popular for inclusion in the "What you like about Millennium" section, let us know and we'll give it fair consideration.
To complete this section of your profile, when viewing your profile click on the Edit Profile button, or find it under your Board Settings.